NJ Judge Upholds $11.1 Million Vaginal Mesh Lawsuit Verdict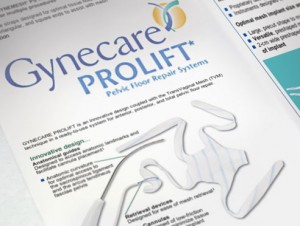 The Honorable Carol E. Higbee recently upheld an $11.1 million vaginal mesh lawsuit verdict rendered last year in a bellwether case against Johnson and Johnson subsidiary, Ethicon. The New Jersey Superior Court judge rejected J&J's request for a new trial for Linda Gross v. Ethicon, in which the plaintiff alleged life-altering injuries and health problems after being implanted with the defendant's Gynecare Prolift device.
Judge Higbee denied the defendant's bid, stating that the claimant presented sufficient evidence of Ethicon's failure to warn about vaginal mesh complications, and that the manufacturer fraudulently misrepresented the implant's efficacy and safety claims.
Judge upholds vaginal mesh lawsuit verdict
The Atlantic County Superior Court judge also rejected J&J's argument against an award for punitive damages under New Jersey law, noting that Ethicon had yet to receive FDA clearance for the Prolift mesh until a full two years after the plaintiff's complications and injuries.
In a 7-2 decision handed down in 2013, the New Jersey state jury decided in favor for the plaintiff, awarding the North Dakota woman $3.35 million in compensatory damages and another $7.76 million in punitive damages to punish the defendant and deter similar conduct in the future.
Gross testified that after receiving the Gynecare surgical mesh to treat her pelvic organ prolapse (POP), she began experiencing debilitating complications after the mesh eroded through the tissue, causing irreparable damage. Gross, like hundreds of other women who went on to file Gynecare mesh lawsuits, endured multiple revision surgeries in attempt to alleviate the damage she incurred from the device.
In total, the plaintiff had 18 corrective operations, but still claims to suffer constant pain, is unable to sit for long periods, and cannot enjoy sexual relations with her husband. Her allegations are echoed by thousands of American women who received pelvic mesh implants under the impression they were a safe and risk-free treatment for symptoms of urinary incontinence and/or POP.
Gynecare mesh lawsuit secures $7.76 M in punitive damages
Despite the recent ruling by Judge Higbee, J&J has indicated they still plan to appeal the vaginal mesh verdict, which gave scores of women like Linda Gross some measure of hope.
Not long after the trial, J&J discontinued their Gynecare Prolift mesh sales – claiming the action was not a recall but related to commercial viability. In the move, Ethicon withdrew four different products including the Gynecare Prosima, Gynecare Prolift, Gynecare TVT Secur system and Gynecare Prolift+M systems.
Meanwhile, transvaginal mesh litigation continues to gain momentum, with more than 60,000 claimants demanding damages from various manufacturers such as Boston Scientific, Cotoplast, C.R. Bard and American Medical Systems.
Seven multidistrict litigations have been established to more effectively handle the product liability claims, with some cases already reaching settlement agreements. Recent court dockets show that J&J still faces roughly 18,500 mesh lawsuits, most of which are pending before Judge Joseph R. Goodwin in West Virginia district court.
This summer one of the first bellwether cases in the Ethicon vaginal mesh MDL will be tried before a federal jury. The claim was brought by Jo Huskey who argues that the Ethicon TVT-O bladder sling is defective in nature, and caused her to sustain serious injuries.  Though plaintiffs whose actions are centralized for MDL proceedings will share in pretrial procedures, each plaintiff is entitled to their own settlement or jury award.