Bard Faces New G2 IVC Filter Complaint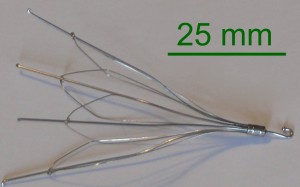 As lawsuits relating to inferior vena cava (IVC) filters continue to mount, a Missouri woman has recently filed a complaint arguing that a portion of the Bard G2 filter implanted in her body fractured, causing a fragment to lodge in her back.
As a result of this device failure, the plaintiff suffered severe pain, lasting disability and loss of enjoyment of life.
Specifics of Bard G2 complaint
According to the complaint in this case, plaintiff Ava Langford received a Bard G2 model IVC filter as a means to halt the development and migration of a pulmonary embolism, a potentially life-threatening condition. Upon removal of the IVC filter, it was discovered that one or more of the filter's struts had fractured and made their way to the patient's back and lodging there for an unknown period of time.
Langford asserts that the defective design of the G2 filter and Bard's failure to engage in sufficient clinical testing of the device entitles her to significant compensation. Specifically, her complaint states that the "draw marking" and grinding markings found on the circumference of the device seriously compromised the integrity and strength of the filter while implanted in the body.
Langford's complaint includes claims for defective design and manufacture, breach of warranties, negligence, consumer fraud, failure to warn and loss of consortium. The plaintiff is requesting an award of punitive as well as compensatory damages. The IVC filter lawsuit will be among those transferred to a newly-created multidistrict litigation (MDL) pertaining to federal Bard IVC litigation.
The Bard MDL is located in the District of Arizona and is under the supervision of Judge David Campbell.
Background of IVC filter controversy and litigation
IVC filters first appeared on the U.S. market in 1979 and have long been used to halt the movement of potentially dangerous blood clots toward the lungs. Designed to resemble small cages, these devices are surgically placed into the veins of patients who are unable to use conventional anticoagulant drugs. These filters have been widely used to treat deep vein thrombosis (DVT), a condition known to cause a high rate of fatal pulmonary embolisms in patients predisposed to developing clots.
Unfortunately, the widespread popularity of IVC filters has recently been tainted by an uptick in adverse event reports connected to their use.
In 2010, the U.S. Food and Drug Administration (FDA) alerted the public to the potential for serious complications stemming from IVC filter implantation, including:
Aortic perforation
Filter fractures
Punctures of the vena cava
Device embolization
Filter fragment migration
Bard filters of specific concern
A study published in the Archives of Internal Medicine provided further cause for concern among patients implanted with IVC filters manufactured by Bard. Researchers found that Bard's Recovery and G2 filter models were characterized by a high disintegration and fracture rate.
The problems with these devices have been compounded by the fact that although many of the models are designed to be removed once the risk of blood clots has been deemed over, few actually ever are.
It has been argued that allowing the filters to remain within the body after they are no longer needed is a practice that has exposed countless individuals to unnecessary levels of risk.