Bard Accused of Keeping G2 Filter Flaws Under Wraps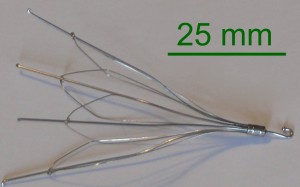 C.R. Bard has come under fire after recently revealed information indicates the company knew its G2 series blood clot filters had serious flaws, but the manufacturer opted to remain mum on the issue.
The G2 IVC filters were designed to replace Bard's Recovery filter — a device that was linked to 27 deaths and at least 300 other non-fatal problems.
NBC News obtained confidential documents noting that the company was alarmed by reports of failure for the G2 during the first four months it was on the market. However, instead of issuing a recall for the filter and it's nearly indistinguishable G2 Express, Bard kept them on the market until 2010 — a total of five years — and sold over 160,000 devices.
According to records kept by Bard and the FDA, G2 series filters are currently associated with at least 12 deaths and hundreds of issues of their own.
Bard G2 series filters linked to high failure rates
The G2 series filters are implanted in the inferior vena cava, to keep blot clots from becoming potentially fatal by moving into the lungs and heart. However, research has shown these spider-shaped filters are associated with high rates of failure and a host of serious complications, which makes their efficacy questionable at best.
Approximately 250,000 patients are implanted with blot clot filters annually in the U.S. — and in most cases, these devices do not cause harm to patients. When Bard received FDA approval for its Recovery filter back in 2002, the manufacturer hoped to introduce an innovative product to the market. Instead, it was quickly linked to reports of injuries and deaths as patients reported instances of filter migration and fracture.
Bard ordered a study revealing the filter had a greater rate of relative risk for death, movement and filter fracture than each and every single one of its peers. The study was conducted by a third-party physician who suggested "further investigation… is urgently warranted."
Despite this, Bard chose not to issue a recall for the Recovery device. In 2005, after the device had been on the market for three years, the manufacturer replaced it with the markedly similar G2 series. Bard internal documentation and several hundred reports to the FDA revealed this new filter failed to rectify the problems of its predecessor.
FDA rejected initial Bard Recovery application
After the first request for FDA approval of the Recovery device was denied, Bard hired Kay Fuller, a seasoned regulatory specialist to assist with its second attempt. In an interview with NBC News, Fuller revealed that Bard failed to provide safety performance results for the device and she noted that the outcome of a small clinical trial raised some serious red flags about its efficacy.
Instead of listening to her concerns, Fuller said she was met with hostility when she questioned the safety of the Recovery filter and was made to feel that her job would be in jeopardy if she kept digging for answers. Fuller told her boss she would not sign off on the FDA application unless these issues were rectified, but the company submitted the application anyway — with what seems to be her signature.
Fuller claims the signature on the document is not hers. She resigned from her job at Bard and reported her concerns regarding the device to the FDA. The FDA will not reveal if it took any subsequent action as a result of her tip.