IVC Filter Litigation Continues to Gain Steam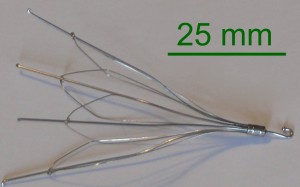 The wave of litigation concerning inferior vena cava filter devices shows no sign of slowing as claims continue to mount nationwide.
Plaintiffs in increasing numbers are filing lawsuits in which it is alleged that the filters, designed to prevent the travel of dangerous blood clots within the body, are prone to migrate away from their original implantation site, fracturing into pieces and causing serious complications including death.
Centralization of lawsuits follows increase in filings
In the midst of growing alarm over the allegedly widespread complications of IVC filters in patients implanted with the devices, all federal lawsuits involving Cook Celect and Gunther Tulip filters have been consolidated into multidistrict litigation in the Southern District of Indiana. Federal cases related to IVC filters manufactured by Bard are now centralized in the District of Arizona before Judge David Campbell.
Recent data from the United States Judicial Panel on Multidistrict Litigation shows that the Bard MDL already encompasses 72 individual matters, while the Cook MDL includes 172 pending cases.
The purpose of establishing multidistrict litigation in matters such as these is to facilitate consistency with regard to pretrial rulings and discover processes, help the parties assess jury reaction to similar fact patterns and legal arguments and to encourage settlement discussions wherever possible. So-called "bellwether" cases will eventually be selected for early trial in hopes that their outcomes, while not binding on any other plaintiffs, will shape potential resolution of a large number of pending cases.
Bellwether trials in the Cook IVC MDL are tentatively slated to begin sometime in September of 2016, though the time lines in the Bard MDL remain uncertain.
Background of IVC filter controversy
Potential issues with the safety of retrievable IVC filter devices started to emerge in 2010, when an initial safety alert was issued by the U.S. Food and Drug Administration in which an increase in adverse event reports connected to their use was noted. Since that time, new research has underscored ongoing failures on the part of physicians to remove the devices from patients' bodies once their individual risk of blood clots has passed. The result has been a dangerous rise in pulmonary embolism and other potentially serious medical events.
According to a study conducted by researchers from Northwestern University and the University of Colorado, the Cook Celect filter in particular had a failure rate of nearly 43%.
When IVC filters do not remain properly seated within the vein, the possible complications can include events such as:
Vena cava punctures
Perforations of the aorta
Device embolization
Device migration
Fractures of the filter itself
Cardiac tamponade
Eventual scope of IVC filter litigation
As complication reports related to migration and failure of the devices continue to accumulate, it seems likely that additional IVC filter lawsuits will continue to be filed.
It is expected that the existing MDLs will eventually include thousands of plaintiffs arguing that the device makers placed unreasonably dangerous products on the market and did not provide sufficient warnings about the risks they presented.
United States Judicial Panel on Mutidistrict Litigation, IN RE: Bard IVC Filters Products Liability Litigation – Transfer Order, http://www.jpml.uscourts.gov/sites/jpml/files/MDL-2641-Initial_Transfer-07-15.pdf
United States District Court Southern District of Indiana, MDL Case Information – MDL No. 2570 IN RE: Cook Medical, Inc., IVC Filters Marketing, Sales Practices and Products Liability Litigation, http://www.insd.uscourts.gov/mdl-case-information
Cleveland Clinic, Inferior Vena Cava (IVC) Filter Removal, http://my.clevelandclinic.org/services/heart/services/vascular_surgery/ivc-filter-retrieval
U.S. Food and Drug Administration, Removing Retrievable Inferior Vena Cava Filters: FDA Safety Communication, www.fda.gov/MedicalDevices/Safety/AlertsandNotices/ucm396377.htm?source=govdelivery&utm_medium=email&utm_source=godelivery