IVC Filter Class Action Lawsuits Filed in Canada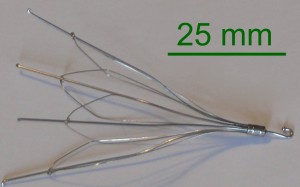 IVC filters are designed to protect patients from life-threatening blood clots, but two recently filed class action lawsuits in Canada claim the opposite.
In January, Wendy Kopeck filed a $200 million class action lawsuit against Cook Medical after doctors deemed her IVC filter removal surgery too risky to perform back in October. Shortly after, in February, Arie Kuiper filed another class action against the manufacturer, seeking $20 million in damages and $500,000 for each patient with a Cook Medical IVC filter, after also being told it is unlikely that doctors can safely remove his device.
An IVC filter is implanted in the inferior vena cava — a large vein located in the middle of the abdomen that works to move blood from the lower part of the body to the heart. The device catches blood clots that escape from the veins in the pelvis or leg and keeps them from moving into the lungs and causing a pulmonary embolism.
Major complications related to IVC filters are usually rare; safe removal of the device is possible for approximately 80% of patients. However, the longer the IVC filter remains in the body, the more challenging it becomes to remove the device.
Similar allegations in IVC filter class action lawsuits
Kopeck underwent surgery to have her IVC filter implanted in August 2013. The Red Deer, Alta. resident opted to have the device inserted into her body as a precautionary measure, to prevent an embolism from forming if a blood clot in her leg moved in the direction of her heart or lungs. When it was determined she no longer needed the filter, Kopeck attempted to have it removed in October, but her doctors decided doing so was too dangerous. A subsequent PET scan revealed the device had broken apart, with the majority traveling to her small intestines and one leg puncturing the internal jugular vein.
Since she cannot have the filter removed, Kopeck will now have to continue using her blood-thinning medication forever. Having the device trapped inside her body has caused her to constantly worry that another leg will eventually break off, pierce another internal organ and kill her.
Kulper's story is markedly similar to Kopeck's. Doctors have tried to remove the Courtice, Ont. resident's IVC filter twice, to no avail and now suspect it cannot safely be done. A third attempt was scheduled for last week. His IVC filter lawsuit includes allegations off suffering from dizzy spells, which he claims could be caused by a clogged filter that is blocking normal blood flow.
Cook Medical denies wrongdoing
Cook Medical doesn't appear to be accepting any of the blame for the injuries and IVC filter complications alleged.
In response to the lawsuits, Mariah Sowers, a Cook Medical representative, sent a statement to CTV News saying that "all medical devices and procedures have benefits and risks associated with them."
"Each patient is unique, with different anatomy and risk factors for (pulmonary embolism), that's why it's critical for patients and physicians to have a consultation to make sure filters are the right treatment for them," said Sowers in the statement.