Early Trials Selected in Cook IVC Filter Litigation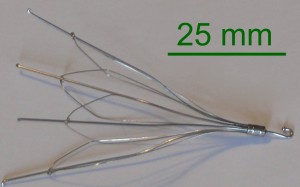 A federal judge has selected three cases to serve as early trials in the growing litigation involving IVC filters manufactured by Cook Medical. Approximately 500 cases are currently pending in multidistrict litigation that has been assigned to an Indiana federal court. The outcome of these early trials may provide insight into how juries might respond to evidence and testimony in future cases.
U.S. District Judge Richard L. Young is overseeing MDL No. 2570, which is currently underway in the U.S. District Court for the Southern District of Indiana. An MDL streamlines the legal process by avoiding duplicate discovery and preventing conflicting rulings.
Cook IVC filter complications
The litigation involves Cook Celect and Cook Gunther Tulip filters. These devices are placed in patients who have been diagnosed with deep vein thrombosis or DVT. The filter is designed to stop blood clots that have formed in a vein of the lower leg to travel to the lung, where they could cause a potentially life-threatening condition known as a pulmonary embolism.
Plaintiffs allege the IVC filters penetrated the inferior vena cava where they were originally implanted, migrating out of the vessel in some cases and causing significant pain and injury. The plaintiffs are further claiming Cook Medical sold an unreasonably dangerous device without providing proper warning about the risks to patients and doctors.
In a court order dated July 19, Judge Young identified three of the lawsuits currently pending to serve as bellwether trials. Bellwether trials may serve as a catalyst for eventual settlement negotiations between defendants and plaintiffs. While parties involved in this litigation have already begun settlement negotiations, if those discussions do not progress, the bellwether trials will move forward as scheduled.
First plaintiff alleges severe gastrointestinal injuries
The first bellwether trial, which is slated to begin sometime next year, is a lawsuit that was filed by Elizabeth Jane Hill of Florida in October 2014. In her complaint, Hill states she had a Cook Celect filter implanted in November 2010. When doctors tried to remove the filter in March 2011, the removal was unsuccessful and Hill was told the filter could not be removed.
After the unsuccessful procedure, Hill began to experience persistent and severe gastrointestinal symptoms that included diarrhea, vomiting and abdominal pain. Upon examination, it was determined that the IVC filter had perforated the inferior vena cava and entered her duodenum. The diagnosis, which was made three years after the filter was implanted, resulted in surgical removal of the filter at that time. However, damage to her inferior vena cava and bowel remained.
Like others that have filed IVC filter lawsuits against Cook Medical, Hill has listed a number of counts against the company including strict product liability, breach of warranty and negligence. Hill has also demanded punitive damages in her complaint, stating that the defendant is liable for "oppression, fraud and/or malice." Her total damages requested exceed $75,000.