Study Explores Possible Causes of IVC Filter Fracturing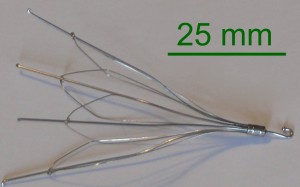 New research has suggested that fractures of inferior vena cava (IVC) filters, the subject of a growing wave of litigation in recent years, may be the result of flattening and other movement of the vena cava itself. The insights were published in July by the Baylor University Medical Center Proceedings and were made by a group of Dallas radiologists.
Case study reveals IVC filter fractures
The research paper is in essence a case study of a 29-year-old woman who had received a C.R. Bard retrievable IVC filter six years prior to its eventual removal. An abdominal scan for a different, unrelated complaint indicated that two struts comprising the filter had in fact fractured, and also that the device had managed to tilt itself 15 degrees away from its intended position. As a result, the patient's vena cava suffered a series of punctures. In an attempt to prevent further, potentially deadly complications from the filter's presence, physicians performed surgery to remove the device and the fractured struts.
Subsequent study under an electron microscope revealed that flattening and foreshortening motions had likely set into motion a fracture mode characterized by either accumulated metal fatigue or acute metal overload. These failure mechanisms are important for physicians to understand, given the severe consequences that can follow IVC filter fractures and migration, which can include
Aortic puncture
Vena cava puncture
Device embolization
Cardiac tamponade
Research underscores need for prompt IVC filter retrieval
Over two years ago, the U.S. Food and Drug Administration alerted physicians that IVC filters needed to be removed within a month or two of determining that a patient was no longer at significant risk of pulmonary embolism, the danger these devices were intended to reduce. This was done because it had become increasingly clear that the longer IVC filters were permitted to stay inside the body, the greater the chance was that they would fracture or migrate. However, it has since come to light that many doctors disregarded or were unaware of the urgency, leaving filters implanted within patients for years at a time, far longer than would be considered medically necessary or fundamentally safe. The patient in the case study at issue had been implanted with her IVC filter 2,310 days (over six years) prior to its removal.
IVC filter litigation pushes ahead
As a result of widespread reports of IVC filter fractures and failures and the potentially devastating side effects they can have, a burgeoning number of plaintiffs have taken action in the courts to seek financial compensation for the harm they and their families have sustained. Multidistrict litigation (MDL) has been established for those with claims against device makers Cook Medical and C.R. Bard, respectively, in order to facilitate consolidation of cases with similar fact patterns, streamline evidence gathering and achieve consistency in pretrial rulings.
Plaintiffs in IVC filter lawsuits frequently allege that the devices themselves were defectively designed and manufactured and that known risks associated with them were not fully disclosed to medical professionals and the community at large. It is also often argued that even though doctors were informed that the filters should only be temporarily implanted in patients, large numbers of physicians have allowed the filters to stay in place for lengthier time frames than medically necessary, raising the risk of failure.
Plaintiffs argue that despite the fact that IVC filters were designed for use in patients who had documented risks of pulmonary embolism who were unable to take conventional blood thinners, many such devices were implanted in patients with neither clinical indication.