New Johns Hopkins Protocol Regarding Morcellation and Cancer Risks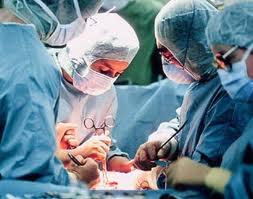 Citing the link between power morcellation and the risk of spreading cancer, The Johns Hopkins University has adopted a new protocol regarding the use of the surgical tool in uterine surgery. Surgeons will not use the power morcellator tool at all during hysterectomy or myomectomy (surgery to remove uterine fibroids) if the patient is over 50, or if she has other risk factors for certain types of cancer, including tamoxifen ingestion, pelvic radiation, BRCA mutations, and other hereditary cancer-related conditions.
Mounting evidence suggests that the power morcellator, a small device with rotating blades that breaks down fibroid or uterine tissue during surgery, can actually spread undetected cancerous cells throughout the uterus or abdomen. Although the devices remove most of the tissue from the body, even the small bits that escape are enough to spread potentially lethal types of cancer.
Before undergoing surgery involving morcellation, women will now have to be carefully screened to rule out the risk factors for uterine cancer listed above. In addition, surgeons using the morcellator on women who do not have these risk factors will need to carry out the morcellation within endoscopy bags to prevent the spread of any errant bits of tissue. Women must also be informed of cancer risks before undergoing morcellation.
Power morcellation and cancer risks also a concern of the FDA
Dr. Stephanie Ricci, a fellow at Hopkins, explained the decision to approach power morcellation in a new way: "Given the review of our institutional data and recent national debate surrounding power morcellation, our institution developed the protocol to enhance safety for women [undergoing] minimally invasive surgery for benign indications."
Although morcellation was developed as a tool to facilitate minimally invasive surgery, the elevated cancer risks outweigh the benefits of the procedure for some. While some figures in the medical community have urged an outright ban on the procedure, Hopkins has chosen to retain (though radically restrict) it.
The new Hopkins protocol was explained only days before the Food and Drug Administration (FDA) called for a similar set of guidelines regarding morcellation. They entail a similarly limited use of the procedure only to pre-menopausal women, encourage alternative means of removing tissue where they are available, and state that women must be aware of the risks of undetected cancer and its possible spread before undergoing the procedure.
There are several companies that manufacture power morcellators. However, the largest such company, Ethicon (a division of Johnson & Johnson) has chosen to withdraw their product from the medical devices market. Ethicon announced their "market withdrawal" this summer. The company says that the decision stops short of a full morcellator recall because they believe that they devices themselves function as designed and are not, in-and-of-themselves, defective.
Women file morcellator lawsuits
Some women who have been diagnosed with cancer that they believe to be connected with morcellation undertaken during uterine surgery have filed morcellator injury lawsuits against the manufacturers, including Ethicon. Some legal experts believe that Ethicon's decision to pull its morcellators from the market is an attempt at legal damage control.