Ethicon Agrees to Transvaginal Mesh Settlement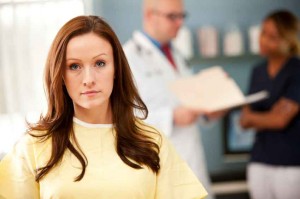 One of the lawsuits against Johnson & Johnson's Ethicon subsidiary with regard to its transvaginal mesh products has resulted in a settlement agreement. The news of the settlement came on the fifth day of the trial and just a few days following the decision by a state court jury to award a different plaintiff $5.7 million in an Ethicon lawsuit pending in California. In that case, the jury awarded the plaintiff $700,000 in compensatory damages and $5 million in punitive damages.
The terms of the mesh lawsuit settlement deal reached in the bellwether trial were not available; however, it's important to note that agreeing to a settlement is not an admission of fault on the part of the defendant.
Severe injuries alleged
The woman who filed the lawsuit against Ethicon and recently reached a settlement agreement had alleged that the transvaginal mesh product she received was defective. She underwent four revision surgeries in an attempt to remove the mesh implant. Among her injuries, she claims to have suffered from chronic pain and inflammation.
The other cases still pending in the multidistrict litigation (MDL) in the U.S. District Court for the Southern District of West Virginia list similar allegations. The plaintiffs claim that, because of defects in design, some patients who received Ethicon's transvaginal mesh products have suffered from severe and debilitating pain, infections, and various internal injuries.
The transvaginal mesh lawsuits claim that the device erodes through the vagina, among other problems, and sometimes need to be removed via revision surgeries.
Thousands of cases still pending
Although this particular plaintiff found a favorable resolution for her case, there are still 70,000 lawsuits pending against various manufacturers of transvaginal mesh products, including Ethicon, American Medical Systems, Cook Medical, Coloplast, Boston Scientific, C.R. Bard, and Neomedic.
The federal lawsuits filed against these companies have been consolidated into various MDLs, separated by defendant. They are all pending before Judge Joseph Goodwin in the Southern District of West Virginia.
The U.S. Judicial Panel on Multidistrict Litigation (JPML) can create an MDL when multiple plaintiffs file lawsuits against a common defendant, with common allegations and statements of fact. MDLs are created for the purpose of streamlining the litigation process, reducing costs for all involved parties, and avoiding the possibility of duplicative or contradictory rulings across various cases.
The lawsuit that was settled had been selected as a bellwether case. Bellwether cases are the initial cases in the transvaginal mesh MDLs to go to trial. Their outcomes aren't binding upon any other case. However, when substantial jury verdicts are reached initially, defendants may be more willing to consider settlement deals.
Some verdicts have proven favorable to defendant mesh manufacturers. Other cases have resulted in multi-million dollar jury awards for plaintiffs. In terms of settlements, American Medical Systems has led the way, agreeing to pay approximately $1.6 billion to settle 20,000-plus cases.