Transvaginal Mesh Manufacturers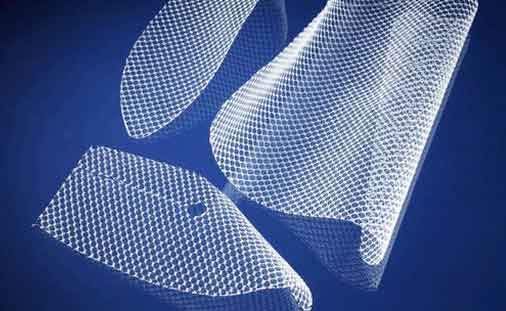 The U.S. market has dozens of surgical mesh products that are used for the treatment of stress urinary incontinence (SUI), pelvic organ prolapse (POP) and rectocele. Originally developed to repair abdominal hernias, mesh devices have evolved over the past two decades to include a variety of synthetic and biocompatible implants and bladder slings.
Transvaginal mesh manufacturers have capitalized on the widespread use of their products in gynecological surgery, promoting pelvic mesh as a safe, long-term solution to the painful and embarrassing symptoms of female POP and urinary leakage. Major players include pharmaceutical giants like Johnson & Johnson, Boston Scientific and Endo Health Solutions.
FDA proposes reclassifying transvaginal mesh
In light of escalating litigation and medical studies involving transvaginal repair of POP and severe complications, the FDA has proposed reclassifying surgical mesh from a Class II device (moderate risk) to Class III (high risk). This proposal was made on April 29, 2014, and if it goes into effect, mesh manufacturers would be required to submit a premarket approval (PMA) application for regulators to evaluate the safety and efficacy of any new device.
Up until now, companies like C.R. Bard, Neomedic and Caldera Medical have been able to launch new products via the agency's 510(k) fast-track process, enabling them to bypass rigorous pre-market testing.
There are more than 100 transvaginal mesh products that utilize the same principle design and concept for treating POP and SUI. Since the FDA has yet to explicitly warn about specific brands or models of bladder slings, implants or patches, it can be assumed that all devices used in transvaginal repair have been linked to serious complications that the agency has warned about. Mesh erosion, extrusion, bleeding, organ perforation, painful sexual intercourse and infection are some of the health complications cited by the FDA.
Transvaginal mesh manufacturers sued by thousands
Throughout the United States, thousands of women have alleged both physical and emotional damages caused by transvaginal mesh implants. As of 2014, more than 50,000 product liability lawsuits have been brought against numerous manufacturers of surgical mesh in an effort to recoup compensation for their medical expenses, emotional distress, loss of enjoyment of life, lost income and inability to enjoy intimate relations with their partner or spouse.
Vaginal mesh lawsuits are currently pending against the following manufacturers:
C.R. Bard – Maker of Avaulta, Align, Biosynthetic Support System, CollaMend, Pelvilace, Pelvitex, Ugytex, Pelvicol and Uretex
Boston Scientific – Manufactures Arise, Advantage, Lynx, Obtryx, Pinnacle, Prefyx, Polyform, and Solyx surgical mesh products
American Medical Systems – A unit of Endo Health Solutions, this company produces the SPARC, BioArc, Elevate, Mini-Arc, Perigee and other devices
Coloplast – Makes Exair, Axis, Restorelle Smartmesh, Novasilk and Susped
Caldera Medical – Manufactures pelvic mesh implants including Desara, Ascend and Vertessa
Ethicon – a subsidiary of Johnson & Johnson, Ethicon is responsible for the Gynecare Prolift, Gynecare TVT and Gynecare Prosima – a line which has since been discontinued
Mentor – produces the Obtape Transobturator Sling
Neomedic International – Manufactures several SUI mesh implants including the Needleless System, TRT Remeex System and KIM System
Mesh litigation coordinated in federal court
As thousands of claims alleging similar complications from pelvic mesh products were being lodged in court rooms across the nation, federal litigation was consolidated in West Virginia district court, where Judge Joseph Goodwin is overseeing pretrial motions and bellwether trials involving seven different defendants.
There are eight pelvic mesh multidistrict litigations (MDL) currently underway, including:
American Medical Systems, MDL 2325
Boston Scientific, MDL 2326
C.R. Bard, Inc., MDL 2187
Coloplast Corporation, MDL 2387
Cook Medical, MDL 2440
Ethicon, MDL 2327
Neomedic, MDL 2511
Mentor Corporation, MDL 2004 (proceeding in Georgia federal court)
Recent verdicts & settlements with mesh manufacturers
This past April, Johnson & Johnson and its Ethicon subsidiary, which face an estimated 13,000 pelvic mesh lawsuits, were ordered to pay $1.2 million in damages to a woman who claimed she suffered serious pain and injuries from the company's TVT-O mesh sling. The case was heard by jurors in Dallas, Texas, who determined the product suffered design flaws, leading to mesh erosion.
In West Virginia district court, bellwether cases have been heard against manufacturer C.R. Bard, which lost its first trial in which jurors rendered a $2 million verdict for the plaintiff. Before the following two cases were to heard, the company settled with claimants for undisclosed sums.
Judge Goodwin is presently hearing one bellwether case per month against American Medical Systems, Boston Scientific, C.R. Bard and Ethicon through the end of December 2014. The verdicts or pre-trial settlements for these may set the tone for future transvaginal mesh litigation.
Most recently, in May 2014, Endo Health Solutions agreed to an $830 million settlement to resolve all pending AMS mesh lawsuits. The company, however, admits neither liability nor wrongdoing. According to their vaginal mesh settlement agreement, each plaintiff would recover approximately $40,000 in damages.
Despite a handful of multi-million dollar awards and over 50,000 legal complaints lodged by women, transvaginal mesh manufacturers have yet to formally recall any of their products. Several product lines have been discontinued, nonetheless, which companies blame on flagging sales.