Transvaginal Mesh Erosion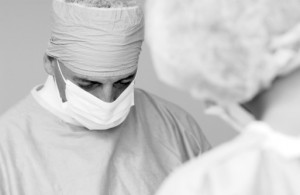 For the 3.3 million U.S. women suffering from pelvic organ prolapse, transvaginal mesh promised freedom from embarrassing incontinence, sexual dysfunction and daily discomfort. However, The Huffington Post reports that 10 percent of these hammock-like implants have failed within one year. Thousands of women found themselves suffering horrendous pain, going in for multiple revision surgeries, and filing lawsuits against multi-billion-dollar companies as a result of transvaginal mesh erosion. Even the FDA has come around to agree that the problems are far too commonplace.
Just about every type of medication and medical device in America comes with some sort of ominous warning on the label. However, product liability lawsuits attest to the fact that many patients would have made different decisions had they known precisely how much risk was involved when they agreed to be implanted with surgical mesh.
What is transvaginal mesh?
Surgical mesh is nothing new. These products have been in use since the 1950s – mostly implanted for hernia repair. Surgeons would have to cut each piece of mesh into the right shape and place it in the right location. Decades later, "ready-made" surgical mesh kits revolutionized the industry.
In 1996, Boston Scientific became the first manufacturer to sell FDA-cleared urinary incontinence surgical mesh. By 2004, a number of big players — including Johnson & Johnson, C.R. Bard and American Medical Systems — had joined the market through the FDA's 510(k) clearance process.
Even though Boston Scientific wound up pulling their ProteGen surgical mesh products from the market following 123 reports of adverse events from mesh erosion to painful intercourse, many of the other products — that were dubbed "substantially equivalent" to Boston Scientific's mesh – were still out there, implanted in women, untested.
FDA warns of transvaginal mesh erosion
More than 1,000 adverse event reports were filed with the FDA from 2005 to 2008. All nine manufacturers of transvaginal mesh were implication in the patient complication reports. Finally, the FDA acknowledged that there was a problem in October of 2008.
The FDA stated matter-of-factly: "The most frequent complications included erosion through vaginal epithelium, infection, pain, urinary problems, and recurrence of prolapse and/or incontinence. There were also reports of bowel, bladder, and blood vessel perforation during insertion. In some cases, vaginal scarring and mesh erosion led to a significant decrease in patient quality of life due to discomfort and pain, including dyspareunia. Treatment of the various types of complications included additional surgical procedures (some of them to remove the mesh), IV therapy, blood transfusions, and drainage of hematomas or abscesses."
Three years later, the number of formal complaints in the database nearly tripled. The FDA issued a second warning in July 2011. They stated: "The FDA is issuing this update to inform you that serious complications associated with surgical mesh for transvaginal repair of POP are not rare. This is a change from what the FDA previously reported on Oct. 20, 2008. Furthermore, it is not clear that transvaginal POP repair with mesh is more effective than traditional non-mesh repair in all patients with POP and it may expose patients to greater risk."
In 2012, the FDA ordered transvaginal mesh makers to conduct additional safety tests and many companies opted to halt production to stop the rising number of complaints from escalating.
Transvaginal mesh erosion leads to serious complications
According to the FDA, the most frequent vaginal mesh complications included:
Transvaginal mesh erosion through the vagina
Pain
Infection
Bleeding
Dyspareunia
Organ Perforation
Continued Urinary Issues
Less frequently, patients reported neuro-muscular problems, vaginal shrinkage, scarring and emotional problems.
Treatment options are slim for sufferers of mesh erosion
One of the downsides of vaginal mesh is that it becomes extremely difficult to remove once tissue grows around it. At best, eroded mesh can be treated with antibiotics or local estrogens. However, the 2008 FDA memo warned that "Treatment of the various types of complications included additional surgical procedures (some of them to remove the mesh), IV therapy, blood transfusions, and drainage of hematomas or abscesses."
Revision surgery to treat vaginal mesh erosion is no picnic, with a high risk of complications.
Complications of vaginal mesh revision surgery may include:
Excessive bleeding and vaginal discharge
Severe abdominal and pelvic pain
Perforation of internal organs such as the bladder, bowel or urethra
The formation of permanent scar tissue
Painful intercourse
The return of urinary incontinence
Infection, shock, sepsis and death.
Many women who undergo one revision surgery end up having multiple surgeries done, thus magnifying the risk of suffering an adverse event.
Lawsuits are on the rise, as settlement talks begin
More than 30,000 lawsuits have been filed against the manufacturers of surgical mesh. At least three cases have gone to court and resulted in multi-million dollar jury awards.
Verdicts and settlements in transvaginal mesh cases:
In California, plaintiff Christine Scott received $5.5 million to cover medical expenses and suffering after eight surgeries and nine other medical procedures to remove her Avaulta Plus mesh devices manufactured by C.R. Bard.
In Atlantic City, plaintiff Linda Gross received $11.1 million from Johnson & Johnson after enduring 18 revision surgeries to correct her transvaginal mesh erosion, which she described as "a living hell."
Settlement talks began in September 2013 after a federal jury awarded a plaintiff $2 million in damages and two other plaintiffs settled with C.R. Bard for undisclosed sums. Lawyers for many of the manufacturer defendants s told Bloomberg News that vaginal mesh settlement talks had officially begun.