26 Ethicon Mesh Lawsuits Consolidated for Trial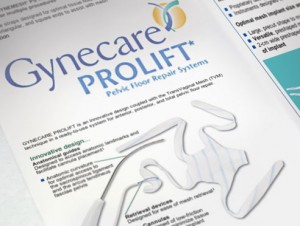 A joint trial for 26 women who have filed Gynecare TVT mesh lawsuits has been scheduled for later this year. U.S. District Judge Joseph Goodwin issued a pretrial order on June 12, setting the consolidated trial date for November 2, 2015. At this time, the 26 lawsuits filed by women from West Virginia will be presented to a federal jury.
More than 70,000 product liability lawsuits have been filed in the federal court system by plaintiffs and their families who have suffered from the use of transvaginal mesh and bladder sling devices. The products were manufactured by several different companies, but more than 23,000 are Ethicon mesh lawsuits — the Johnson & Johnson subsidiary behind Gynecare TVT mesh.
Ethicon mesh lawsuits
Significant progress made towards reaching Ethicon mesh settlements has not been made. In fact, plaintiffs recently requested that Judge Goodwin begin consolidating cases for trial to move the resolution process along.
Each of the complaints allege similar issues that the Gynecare TVT device has design defects that cause women to experience painful and debilitating complications, such as erosion of the mesh through the vagina, infections and other problems that often cause the need for mesh to be surgically removed.
Ethicon was opposed to the consolidation of the cases for trial, saying that the lawsuits should undergo separate jury consideration as each woman was treated by a different doctor and together their implant procedures took place over a 13 year time period. However, due to the high volume of cases pending and the similarities cited, Judge Goodwin decided to consolidate them.
"Although the physicians who performed the TVT surgeries vary among the plaintiffs, all of the surgeries were performed in West Virginia, which each plaintiff claims as her state of residence," Judge Goodwin ruled. "Among these cases, the claims against Ethicon are the same: negligence, design defect, defective product, manufacturing defect, failure to warn, breach of express warranty, breach of implied warranty, and punitive damages."
Thousands of vaginal mesh lawsuits
In addition to the Ethicon lawsuits, Judge Goodwin is also presiding over thousands of other vaginal mesh litigation brought against a number of other manufacturers — including Boston Scientific (16,755), Bard Avaulta (10,956), Coloplast (1,960), Cook Medical (300) and Neomedic (94).
In an attempt to avoid the need for thousands of individual trials across the country, Judge Goodwin has repeatedly encouraged the defendants to enter good faith mesh settlement negotiations.
Multi-million dollar awards have already been granted to a number of individual plaintiffs who have been selected for early bellwether trials. Several cases have included substantial punitive damages to punish companies for knowingly manufacturing and selling a dangerous medical device.
FDA issues proposal to combat vaginal mesh risks
On April 29, 2014, the U.S. Food and Drug Administration issued two proposed orders designed to help reduce the health risks linked to surgical mesh used for transvaginal repair of pelvic organ prolapse (POP). The orders would reclassify surgical mesh for POP from a moderate-risk device (class II) to a high-risk device (class III) and require manufacturers to submit a premarket approval application to the FDA for the evaluation of the safety and effectiveness of the device.