Concerns Raised About Possible Autonomous Robot Surgery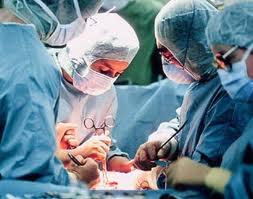 Robot-assisted surgery has grown increasingly popular. The da Vinci surgical platforms, designed and manufactured by Intuitive Surgical, have been added to surgical suites around the country. But with the increasing prevalence of robotic surgery comes a rise in litigation that alleges serious risks associated with this medical technique. Despite the questionable safety of the current robotic systems, some industry insiders have hinted at the future release of entirely autonomous robotic surgery systems.
Google researcher divulges possible initiative
In a recent interview with Backchannel, former Google X researcher Babak Parviz said that he wouldn't be surprised to hear of fully autonomous robots making decisions in operating rooms sometime in the future. He claimed that the robotic technology would make surgeries safer. Parviz had been instrumental in the development of Google Glass and he had been working on the development of a glucose-sensing contact lens before he left the company. According to Parviz, in 2010, he sold the idea of autonomous robot surgeons to the tech giant.
Google did not care to comment on Parviz's recent interview. However, a new initiative was recently announced, known as Verb Surgical. It is a joint project between Johnson & Johnson's Ethicon subsidiary and Verily (formerly Google Life Sciences). In the announcement of Verb Surgical, the companies noted that it was launched for the purpose of developing "leading-edge robotic capabilities and best-in-class medical device technology."
Parviz remains optimistic about the future of robotic surgery. "We rely on the dexterity of human surgeons but now we know machines are quite a bit more precise than humans. If you want to do things with extreme precision, a machine would be better," said Parviz.
Serious risks associated with current robotic surgery platforms
Despite the optimism of R&D experts, others remain unconvinced that robotic platforms belong in the operating room. The currently available robotic surgery systems – which are completely controlled by the surgeon at all times – have come under fire for allegedly causing serious surgical complications and even death.
Since it was first approved by the FDA in 2000, Intuitive Surgical's da Vinci Surgical System has generated hundreds of millions of dollars for the company. In 2014, the company announced that it was setting aside $67 million to settle 76 product liability lawsuits. Some of the complications reported by patients have included nerve injury, injury to organs, internal scarring, infection, excessive bleeding, and equipment failure.
Patients must remain under general anesthesia for longer periods of time when they undergo robot-assisted surgery. This places them at an increased risk of breathing problems and adverse reactions to the anesthesia. Sometimes, it becomes necessary for a surgeon to switch from minimally invasive techniques to an open surgery procedure. Along with these complications, plaintiffs demand compensation for the defendants' alleged failure to adequately warn of the risks, failure to provide adequate training to surgeons, and failing to properly monitor and report complications.