Power Morcellation Reduces Patients' Chances of Survival, Research Shows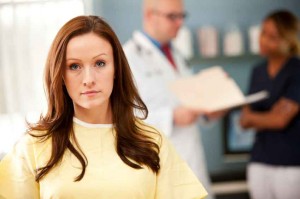 The latest studies to be published regarding power morcellation have found that fewer doctors are using the devices on patients. The research has also discovered that power morcellation can lower the survival rates among patients. Power morcellators are devices that surgeons often use during a hysterectomy or a myomectomy.
A hysterectomy is a procedure to remove a woman's uterus and sometimes other reproductive organs such as the ovaries. A myomectomy is a type of surgery that involves the removal of uterine fibroids, which are benign growths that can cause problematic symptoms for women.
Power morcellation became a widely used tool during minimally invasive surgeries. Unlike an open surgery, laparoscopic surgery involves the use of several small incisions, rather than one large incision. In order to remove large structures such as the uterus or uterine fibroids through these incisions, the surgeon must cut the structures into smaller pieces. Breaking down these structures into tiny pieces was the role of the power morcellator.
Research on declining survival rates
However, about two years ago, public outcry over power morcellation was fueled by revelations that the technique can spread pre-existing cancer cells well beyond their point of origin. This can drastically worsen a woman's prognosis. The latest study to evaluate women's survival rates was published in the medical journal Obstetrics & Gynecology. "Occult Uterine Sarcoma and Leiomyosarcoma: Incidence of and Survival Associated With Morcellation" evaluated the three-year probability of survival among groups who underwent power or non-power morcellation, as well as no morcellation.
The significant divide in results among these groups led the researchers to conclude that, "Morcellation is associated with decreased early survival of women with occult leiomyosarcomas."
Research indicates drop in usage
After it became known that women with undiagnosed, pre-existing leiomyosarcomas were at risk of rapid metastasis of their cancers when they underwent surgery with morcellation, the FDA released a safety communication in April 2014. The FDA estimated that, based on their existing data, about one in 350 women who undergo a hysterectomy or myomectomy has an unsuspected uterine sarcoma. The safety communication went on to assert that, "Based on currently available information, the FDA discourages the use of laparoscopic power morcellation during hysterectomy or myomectomy for uterine fibroids."
Despite this strongly worded safety advisory, the FDA came under fire from critics because the agency stopped short of banning the use of power morcellators outright.
However, it appears that healthcare providers are heeding the FDA's advice. The second recent study regarding power morcellators is entitled "Association of the U.S. Food and Drug Administration Morcellation Warning With Rates of Minimally Invasive Hysterectomy and Myomectomy." It was published in the December 6 issue of Obstetrics & Gynecology. The researchers behind this study evaluated data from six Florida hospitals. They evaluated patients who underwent a hysterectomy or myomectomy during an eight-month time period before and after the release of the FDA's safety communication.
The results of the study indicate that the rates of minimally invasive myomectomies decreased by 19 percent. Similarly, the number of minimally invasive hysterectomies decreased by 5.8 percent during this period.