Rejuvenate Hip Lawsuit Alleges Early Failure and Metallosis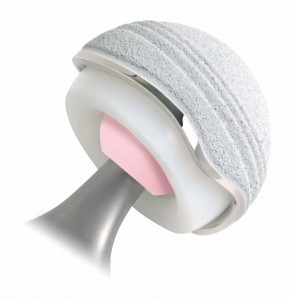 On July 1, 2015, Linda L. Thompson of Washington filed a lawsuit regarding her Stryker hip replacement device. The complaint names Howmedica Osteonics doing business as Stryker Orthopaedics as defendants.
The lawsuit is a short form complaint filed directly in the multidistrict litigation (MDL) No. 2441, which is proceeding in the U.S. District Court for the District of Minnesota. The Honorable Judge Donovan W. Frank is presiding.
Failed implant led to revision surgery
According to her Stryker hip lawsuit, Thompson received her hip replacement device on January 16, 2012. She was implanted with the Rejuvenate modular hip stem on her right hip at a hospital in Washington. Due to her injuries, she underwent hip revision surgery on February 22, 2013, at which point the Rejuvenate model was removed and replaced with another device.
Thompson's lawsuit does not delve into specifics with regard to what complications she may have suffered as an alleged result of the hip implant. However, Rejuvenate patients who have filed lawsuits in the MDL cite similar medical problems, such as ongoing and severe pain, reduced range of motion, and reduced ability to ambulate. Some patients have been diagnosed with bone fractures, infections, and pseudotumors, and some have reported swelling of the hip joint. The Rejuvenate model is alleged to be subject to premature loosening, fretting, corrosion, and premature failure, which requires revision surgery.
Additionally, Thompson's complaint claims that she was diagnosed with metallosis, which refers to excessive levels of metals such as chromium and cobalt in the bloodstream. Heavy metal toxicity is associated with a number of metal-on-metal hip implants.
Thompson's lawsuit will share pretrial proceedings
Since this lawsuit joins the Stryker hip replacement MDL in Minnesota, Thompson will share pretrial proceedings with the other plaintiffs. This means that her complaint is subject to discovery and pre-trial rulings that apply to all of the claims pending in the mass litigation. However, Thompson has not forfeited her right to an individual trial by jury. If her case is not settled as part of the MDL, the judge can remand it back to her home district and Thompson will have her day in court.
Voluntary recall issued for Rejuvenate hip system
Some of the lawsuits in the MDL point to Stryker Orthopaedics' voluntary Rejuvenate hip recall as evidence that it was defective. In 2010, the defendants had planned to launch a 10-year study of Rejuvenate patients to evaluate their outcomes and assess possible safety risks. However, just two years later, Stryker Orthopaedics issued an Urgent Field Safety Notice. The notice described the possibility that the Rejuvenate model could cause metallosis and may lead to revision surgery.
A few months after issuing the safety notice, Stryker Orthopaedics issued a voluntary recall of the Rejuvenate hip replacement. The recall notice mentioned problems such as fretting and corrosion of the devices. At the same time, Stryker voluntarily recalled its ABG II hip system, which has also been the subject of many product liability lawsuits. The defendants recommended that patients who received these implants and experienced symptoms schedule medical evaluations to check for heavy metal toxicity.