Metal-on-Metal Hip Replacement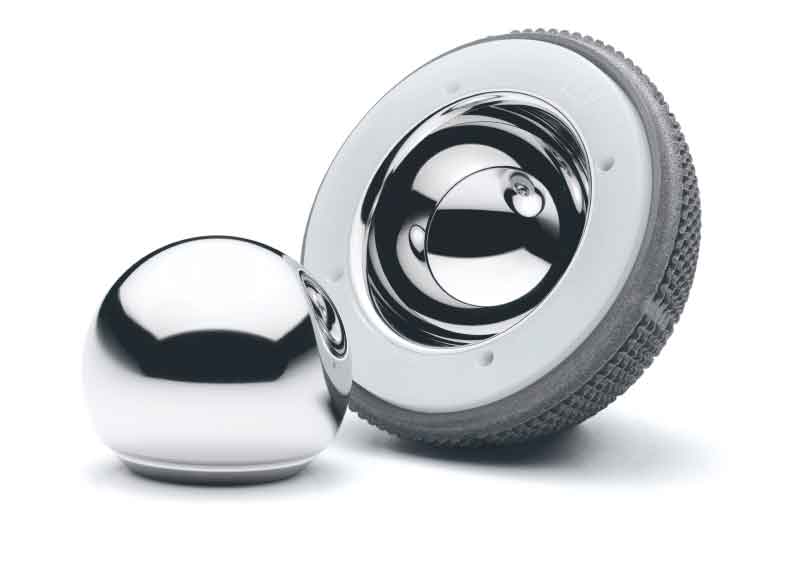 Researchers who work with bio-medical technology are always striving to create joint replacement devices that last longer and work just like the hip or knee that the artificial joint replaces.  Metal-on-metal hip replacements initially held out the promise of greater durability and functionality.  Unfortunately, certain devices are failing at a greater rate than their competitors, often necessitating revision surgery and incidental problems.
Moreover, metal-to-metal hip implants are known to cause metal poisoning in some patients and have resulted in other serious medical problems.  The FDA has issued a number of safety communications about the devices and is tightening their regulation.  Meanwhile, thousands of recipients of the problematic hips have taken legal action against their manufacturers.
Metal-on-metal hip replacement
Hip replacement surgeries have been performed for over 100 years, but the surgery and the implanted devices that are used have evolved considerably.  Most modern hip implant devices that replace the original hip are made of some combination of metal, ceramic, or plastic.  These modern hip implants are generally expected to last 15 or more years.  Manufacturers that introduced metal-on-metal hip devices were hoping that they would last longer and provide a better range of motion than earlier examples.
Doctors replace hips if arthritis, injury, or other factors result in pain or damage that immobilizes a patient.  Hip replacement (or hip arthroplasty) offers the promise of greater mobility and flexibility, and freedom from pain, allowing for a return to an independent and active lifestyle.  In a total hip replacement, a doctor replaces both components of the ball-and-socket hip joint:  the round head of the femur bone and the acetabulum, or cup-like component of the pelvic bone, into which it fits.
Metal-on-metal hips, in which both components are made of metal, were first pioneered by British orthopedic surgeon Derek McMinn and introduced for sale in Europe in the 1990s. Starting in the early 2000s, metal-on-metal hips rose quickly in popularity in the U.S.:  over half a million patients in this country received metal-on-metal implants, due in part to a marketing campaign that touted the advantages of the devices for younger patients who would benefit from the longer-lasting implants.  Up until a few years ago, almost one in three hip replacement systems implanted involved a metal-on-metal device.
510(k) clearance process for medical devices
In the U.S. market, manufacturers are cleared to manufacture and sell metal-on-metal hip replacement systems through the FDA 510 (k) clearance process.  For years, hip replacement systems were classified as "moderate risk" devices and, under this system, such devices which were determined to be "substantially similar" to products already on the market were cleared for sale without additional testing or trials.  The classification of the hips as "moderate risk" was supposed to be a temporary designation until a final judgment on the subject was made; however, this final determination has been delayed for several years, allowing manufacturers to capitalize on the less rigorous clearance system.
The FDA judged the metal-on-metal hips to be similar to previously cleared hip replacement systems and the devices were adopted quickly without serious scrutiny.  Unfortunately, several problems have emerged with metal-on-metal hip replacement systems which preliminary trials might have caught earlier.   The current process effectively put a huge number of patients at risk for serious complications.
Common metal-on-metal hip complications
Between 2000 and 2011, the FDA received approximately 16,800 adverse event reports regarding metal-on-metal hip replacement systems.
The most commonly complained of problems included:
Implant loosening
Dislocation of the hip joint
Popping or squeaking sounds
Uneven wear, grinding, or misalignment
Loss of mobility
Swelling
Infection
Bone fracture
Severe pain
Metallosis (metal poisoning caused by the implants shedding tiny fragments of metal)
A high number of patients reported early device failure that necessitated hip revision surgery, in which the implant was removed and replaced.
FDA involvement: metal-on-metal hips
Because of the high number of adverse event reports that the FDA received regarding metal-on-metal (MoM) hips, the agency has had cause to involve itself in their regulation in a number of ways.
The following illustrate important dates in FDA regulation of hip replacement devices:
March 2007:  Agency sends two warning letters to Stryker Orthopaedics regarding safety concerns.
August 2009:  FDA issues a warning letter to Johnson & Johnson regarding safety concerns.
May 2011:  FDA instructs metal-on-metal hip replacement manufacturers to conduct postmarket surveillance studies.
June 2012:  Agency convenes the Orthopaedic and Rehabilitation Devices Panel of the Medical Devices Advisory Committee to evaluate the safety of metal-on-metal hip implants.
January 2013:  FDA overhauls the 510(k) clearance process so that manufacturers are required to submit pre-market approval applications for the devices.
January 2013: Announces safety communication to doctors and patients regarding the devices, including the advice that patients who are experiencing pain and other complications undergo testing for metal ion levels in the blood.
Recalled and problematic MoM replacement systems
Several manufacturers have faced scrutiny regarding the safety and efficacy of their hip replacement products.
Among the most prominent of these companies:
DePuy Orthopaedics (a division of Johnson & Johnson):  the Pinnacle Hip Replacement System, the ASR XL Acetabular System, and the ASR Hip Resurfacing System.  Both ASR systems have been subject to the DePuy hip recall, though all three systems have been alleged to exhibit higher than average failure rates.  The company has phased out its metal-on-metal hip replacement systems.
Stryker Orthopaedics:  the Rejuvenate and the ABG II modular-neck hip stems, both of which are associated with metal poisoning, implant loosening, and the need for revision surgery.  Both systems have been recalled.
Zimmer Holdings:  Zimmer's Durom Acetabular Component (a/k/a Zimmer Durom Cup), a metal hip socket that was briefly recalled and then reintroduced.  It can become detached from the bone, causing great pain and necessitating revision surgery.
Smith & Nephew:  R3 Acetabular System, recalled.
Biomet, Inc.:  the M2a metal-on-metal implant.  It has resulted in metallosis and a high failure rate.
Wright Medical Technology, Inc.:  Conserve Plus Total Resurfacing Hip System and the Profemur Z Hip Stem.  Both products have a high failure rate.
Thousands of hip replacement lawsuits are currently pending against several of these companies.  Due to the high rate of failure and medical issues, as well as the many legal complaints, metal-on-metal hip replacement now account for only about 5 percent of all hip replacement surgeries performed in the United States.