Wright Medical Hip Replacement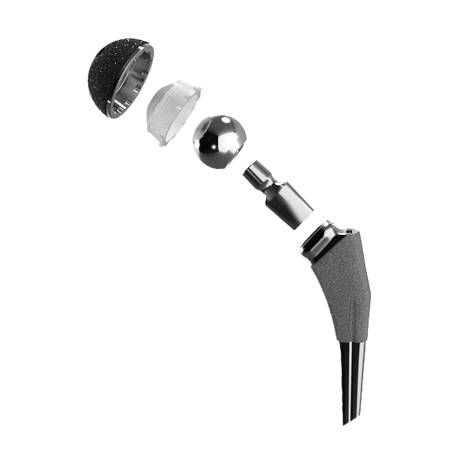 Wright Medical Technology, Inc. manufactures orthopaedic implants for the foot, ankle, hand, elbow and shoulder. Wright also manufactured hip replacement products until January 2014, when it finalized the sale of its OrthoRecon business to MicroPort Scientific Corporation. The OrthoRecon business included the Conserve and Profemur implants, which have been the subject of much controversy and litigation over the last several years.
Types of hip implants
Orthopaedic surgeons use hip implants like the Conserve and Profemur products when a hip joint has been weakened by conditions such as severe arthritis and fracture, among others. Most hip implants are made up of a single long "stem" with a rounded top that fits into a separate cup-like hip socket. Surgeons insert the stem into the thigh bone; the curved top rotates inside the socket to allow the leg to move.
Unlike many other replacement hips, the Conserve and Profemur implant components are made entirely of metal – principally titanium and titanium alloy. In addition, the stems have two separate modular pieces. The surgeon can adapt the length of the stem to accommodate each patient's specific leg dimensions. In addition, the modular nature of the implant is designed to help patients achieve greater flexibility of movement.
Wright hip implant problems
Hip replacements like Conserve and Profemur have caused a wide array of side effects, some of which are exceedingly serious. Because both components of these systems are made of metal, metal ions can be released when the two parts rub against each other.
According to the FDA, the complications of these metal-on-metal (MoM) implants include:
Infection
Loosening
Dislocation
Osteolysis (destruction of bone tissue)
Bone or device fracture
Elevated metal ion levels in the joint and bloodstream
Transfer of metal ions through the placenta to a developing fetus
Inflammation of soft tissue around the hip
Soft tissue tumors, some malignant, and tissue necrosis
Development of potential systemic events related to elevated metal ion levels
Revision surgery
Femoral neck fracture (for hip resurfacing)
General hypersensitivity reaction (skin rash)
Cardiomyopathy (weakening of the heart muscle)
Neurological changes including sensory changes (auditory, or visual impairments)
Depression and other psychological disorders
Renal function impairment
Thyroid dysfunction (symptoms of which include neck discomfort, fatigue, and weight gain, among others)
Studies of hip implant problems
Many scientific studies in the United States and in other countries have revealed serious problems caused by MoM hip implants like Conserve and Profemur.
Studies revealing metal on metal hip complications include:
A February 2014 study in Finland found that patients with MoM implants had higher risks of certain cancers than patients with conventional devices. Researchers followed the medical histories of more than 28,000 hip implant patients for over 10 years. The researchers determined that patients with MoM hip implants had more than twice as many soft-tissue sarcomas as patients with non-MoM replacements, while the number of basal cell carcinomas was 33% higher in the MoM group.
In January 2014, a Consensus Statement concerning MoM hip implants was issued by the American Association of Hip and Knee Surgeons, the American Academy of Orthopaedic Surgeons, and The Hip Society. The physicians' associations reported their members' experience that the failure rate of MoM hip replacements was as much as three times as high as that of other hip implants. The doctors blamed soft tissue inflammations, infections, and tumors for the higher rates of failure.
Health Canada issued a May 2012 Public Health Communication regarding MoM hip implant surgery followup and complications to orthopaedic surgeons and patients.
In April 2010, the UK's Medicines and Healthcare Products Regulatory Agency published a number of warnings of soft tissue complications caused by MoM hip implants.
In Australia, the Orthopaedic Association National Joint Replacement Registry issued a 2010 report concluding that MoM hip replacement patients needed remedial surgery far more frequently compared to patients who had conventional hip implants.
Wright hip replacement litigation
The many patients injured by medical devices such as Conserve and Profemur have filed hip replacement lawsuits seeking financial compensation for their pain and suffering, medical bills, lost earnings, disability, and other losses.
In February 2012, the U.S. Judicial Panel on Multidistrict Litigation determined that centralizing pretrial processing of the federal cases involving Conserve implants would be in the interests of the parties and the court. Accordingly, that panel ordered all federal cases regarding the Conserve hip replacement to be heard by Judge William S. Duffy, Jr., in the U.S. District Court for the Northern District of Georgia. As of April 15, 2014, 78 cases were pending in that action, styled In re Wright Medical Technology, Inc., Conserve Hip Implants Products Liability Litigation, MDL No. 2329 (N.D. Ga.)
Early in 2014, the Nova Scotia Supreme Court certified a class action lawsuit involving Profemur implants.
The plaintiff in the case charged that his Profemur replacement's defective design caused it to fracture, resulting in substantial pain and forcing him to undergo corrective surgery. According to papers filed in the case, Profemur hip implants have fractured in more than 600 instances in Canada alone. At least 30 additional plaintiffs have sought to participate in the lawsuit so far.
Wright, "Wright Medical Group, Inc. Completes Divestiture of OrthoRecon Business," January 9, 2014, http://phx.corporate-ir.net/phoenix.zhtml?c=129751&p=irol-newsArticle&ID=1889679&highlight=
FDA, "Concerns about Metal-on-Metal Hip Implants," January 17, 2013, http://www.fda.gov/MedicalDevices/ProductsandMedicalProcedures/ImplantsandProsthetics/MetalonMetalHipImplants/ucm241604.htm
U.S. Judicial Panel on Multidistrict Litigation, "MDL Statistics Report" April 15, 2014, http://www.jpml.uscourts.gov/sites/jpml/files/Pending_MDL_Dockets_By_District-April-15-2014.pdf