DePuy Hip Replacement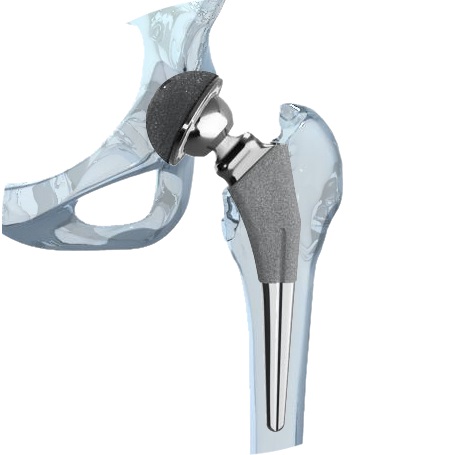 DePuy Orthopaedics, which was founded in Warsaw, Indiana in 1895 as DePuy Manufacturing, is one of four names under which the multinational corporation DePuy now operates.  DePuy was acquired by Johnson & Johnson in 2008 and integrated into the corporation Synthes, also acquired by Johnson & Johnson in 2012, to form DePuy Synthes in that year.
The company produces and markets products related to the treatment of skeletal injuries and to joint replacement, including many kinds of artificial hips.
Three DePuy hip replacements have been subject to recalls, or have exhibited dangerous side effects for their recipients:
The Pinnacle Acetabular Cup (metal-on-metal version), 48-66 mm
The ASR XL Acetabular Total Hip Replacement System
The ASR Hip Resurfacing System
These products are examples of the flawed metal-on-metal hip replacement systems or components which have resulted in serious hip complications.
Thousands of patients in the U.S. have been implanted with these DePuy products and many who have endured the associated complications have decided to take legal action against DePuy in some of the highest profile product liability litigation in recent history.
An overview of hip complications and lawsuits associated with these DePuy hip replacement systems reveals the troubling state of the clearance process for medical devices such as artificial hips.
DePuy hip replacements
DePuy Orthopaedics offers many kinds of hip replacement, including the following:
Total Hip Replacement:  the entire hip joint (including both the femoral head and the acetabulum cup:  both "ball and socket") is replaced with artificial components.
Partial Hip Replacement:  only one of the two main components of the hip joint is replaced.
Hip Resurfacing:  only the surface of the femoral head is replaced, maintaining the bone substructure.  Hip resurfacing was pioneered in the 1970s, but only began to be used more widely after the introduction of metal-on-metal hips, which dispensed with the plastic liner and allowed for a larger and (it was thought) more stable acetabular component.
Hip replacements also come in the following versions:
Metal-on-plastic (polyethylene)
Ceramic-on-plastic (polyethylene)
Metal-on-metal
Ceramic-on-ceramic
Metal-on-ceramic
Most traditional hip replacement models are metal-on-plastic varieties.  Other combinations of materials have advantages and disadvantages (for instance, some researchers believe that ceramic-on-ceramic types may be more durable, but they have also been known to make squeaking and popping sounds.)  The most problematic, however, are metal-on-metal varieties, including the three specific examples manufactured by DePuy and listed above.
DePuy ASR and Pinnacle models
The three metal-on-metal hip prostheses manufactured by DePuy Orthopaedics that have exhibited problematic characteristics are:
The Pinnacle Acetabular Cup System (metal-on-metal version), 48-66 mm:  The Pinnacle Acetabular Cup System allows more flexible options for a surgeon in terms of the size of the acetabular portion of a total hip replacement system.  The cup system was available in five different combinations of materials (ceramic-on-plastic; metal-on-plastic; ceramic-on-ceramic;   metal-on-metal; and ceramic-on-metal), though the metal-on-metal version, which resulted in serious medical complications, is no longer available.
The ASR XL Acetabular Total Hip Replacement System. This model is similar to traditional hip replacements.  However, the replacement acetabular component of the implant is composed of one rather than two pieces.  Without the lining that a traditional implant would entail, the acetabular component could be larger ("XL") and, according to DePuy, more stable.  The acetabular and femoral components were both made of metal.
The ASR Hip Resurfacing System.  The Hip Resurfacing System maintains most of the shaft of the femur, with only a small post attaching the leg bone to the replacement component of the acetabular cup.  The system was designed to preserve more of the patient's bone and thus to be less radical and invasive, maintaining the natural anatomy of a younger patient, especially, who might need further surgery later in life.
FDA clearance process
The Pinnacle Acetabular Cup System was cleared for the U.S. market by the FDA in 2000, and the ASR XL Acetabular Total Hip Replacement System was cleared in 2005.  Both were cleared through the FDA's 510(k) clearance process.  Under this system, hip implants were classified as "moderate risk" devices.  The new metal-on-metal hips were determined to be "substantially similar" to devices which are already cleared by the FDA and were thus allowed to enter the U.S. market without additional testing or trials.  Without rigorous testing, thousands of patients worldwide received the implants before it became clear that a high proportion of the hips were failing or resulting in serious complications.
However, the FDA determined that the ASR Hip Resurfacing System was substantially different in comparison to models that had been cleared earlier and the agency required a clinical study known as an investigational device exemption (IDE), in which only a small number of patients receive the implant and are monitored carefully.  Patients in the study experienced an unacceptably high number of fractures associated with their implants and the FDA never approved the device for the U.S.  It was, however, approved for the European market in 2003.
DePuy hip complications
A high number of patients who received either ASR system or the metal-on-metal version of the Pinnacle Acetabular Cup System experienced complications that included:
Metal poisoning (metallosis)
Loosening or misalignment of the implant
Implant dislocation
Chronic or severe pain
Mobility problems
Need for hip revision surgery
DePuy hips:  studies, recalls, and the FDA
Since the introduction of DePuy's metal-on-metal hips into the market, the FDA has received many adverse event reports concerning the complications listed above and the hips' early failure.  The FDA sent a warning letter to Johnson & Johnson regarding safety concerns over the hips in August of 2009.
Early in 2010, DePuy announced that they were phasing out the ASR systems due to "declining sales," but it was not until August that they formally issued a worldwide recall of both versions of the ASR hip, admitting that there was a higher than average failure rate for both hips (12% for the replacement and 13% for the Resurfacing System).  Subsequent studies indicated much higher failure rates.  For instance, the British Orthopaedic Association issued a statement in March of 2011 that they had found that after six years 49% of implants required replacement, an astonishing implant failure of almost half of the devices.
The FDA, alarmed by reports regarding the DePuy metal-on-metal hips and similar devices manufactured by other corporations, instructed manufacturers to conduct post-market studies of the products in May of 2011 and also convened a committee on their safety in June of 2012.  They also overhauled the clearance process for medical devices in January of 2013 and issued a safety communication advising doctors to test patients who had received all-metal implants and were experiencing unexplained pain for signs of metallosis.
While DePuy was in the midst of the recall of the ASR devices, they shifted their emphasis to the metal-on-metal Pinnacle Systems, suggesting in various cases that the failure rate of the ASR devices was due to the errors performed by the surgeons who implanted them.  Facing pressure from the FDA and legal challenges, the company decided to discontinue their metal-on-metal versions of the Pinnacle Systems only by August of 2013.
DePuy hip litigation and settlements
Thousands of lawsuits involving the DePuy ASR and Pinnacle hips are currently pending.  As some trials have taken place, questions about what DePuy and Johnson & Johnson knew about hip failure and complications have come to light.  For instance, internal documents show that the company had reports of the ASR's flaws as early as 2008 and did nothing about them, and that they failed to conduct appropriate reviews of the devices before releasing them to the market.
Plaintiffs who have sued the company contend, among other complaints, that they negligently produced a dangerous product and that they failed to warn about complications.  DePuy ASR lawsuits are demanding damages related to medical bills, cost of rehabilitation, lost wages and earning potential, and pain and suffering.
Litigation related to DePuy hips includes the following:
Multidistrict litigation involving close to 8,000 Pinnacle hip lawsuits is consolidated in one court under Judge EdKinkeade in the U.S. District Court for the Northern District of Texas.
Multidistrict litigation involving over 8,000 ASR complaints to be heard by Judge David Katz in the U.S. District Court for the Northern District of Ohio.
In November 2013, DePuy agreed to pay $2.5 billion to settle 8,000 ASR hip lawsuits.
In February 2015, an additional 1,400 ASR complaints were added to the DePuy hip settlement agreement reached in 2013, effectively resolving 90 percent of ASR hip litigation.
A mass tort of about 2,000 ASR lawsuits is pending in California state courts.  DePuy has agreed to a settlement in one of the early ("bellwether") cases.  A jury also awarded $8 million in damages in March of 2013 in a Los Angeles court.
A mass tort involving hundreds of DePuy ASR lawsuits was consolidated in New Jersey state courts, with one case settled for an undisclosed amount.
In March 2016, J&J lost its first Pinnacle hip lawsuit in Texas court and was ordered to pay $502 million in damages to five plaintiffs. This was was second bellwether Pinnacle hip trial, and is expected to act as a litmus test for future cases.