Da Vinci Hysterectomy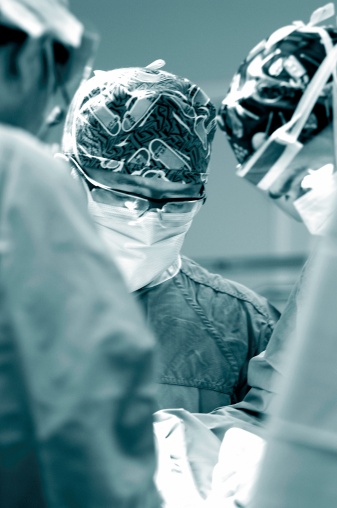 Intuitive Surgical, manufacturer of the da Vinci surgical system, claims a robotic hysterectomy allows for better dexterity, precision and control, but patients who say they were harmed by the surgery are filing suit.
A California woman who opted for a da Vinci hysterectomy told Bloomberg News she was left with both emotional and physical scars after her botched operation. She decided to file suit against Intuitive when, a little over a month after the surgery, a section of her small bowel fell out of her body. According to her attorney, because of the [robotic] burn, the vaginal cuff — when sutured after removal of the uterus and cervix — doesn't hold.
Da Vinci hysterectomy overview
A robot-assisted hysterectomy may offer the patient various advantages over a traditional or laparoscopic procedure. According to Intuitive Surgical, the da Vinci robot state-of-the-art surgical system facilitates a minimally invasive operation that carries less risk for post-operative complications.
Potential benefits of a robot hysterectomy include:
Smaller incisions compared to an open hysterectomy
Shorter hospital stay
Recovery process is faster
Less blood loss
Reduced risk for infections
Less pain
Scarring may be less noticeable
During a da Vinci hysterectomy, the surgeon uses a high-tech computer with 3D vision system to control the surgical instruments. The system translates the surgeon's every hand gesture to move the robotic arms and instruments "into smaller, more precise movements of tiny instruments inside the body," states the Intuitive website.
A hysterectomy – whether open, laparoscopic or robot-assisted — may be indicated in women who suffer from the following:
Cancerous tumors in the uterus or ovaries
Benign fibroid tumors
Long-term, irregular vaginal bleeding
Endometriosis ( tissue from the uterine lining begins to grow outside of the uterus, resulting in pain and persistent bleeding)
Uterine prolapse
The recovery process will vary from patient to patient, depending on whether a total hysterectomy (uterus and cervix) or a partial was performed. A robotic hysterectomy may be suggested for patients who have anatomical anomalies and aren't good candidates for a vaginal procedure. As with any type of surgery, risks include adverse reaction to anesthesia, blood clots, infection and bleeding.
However, da Vinci hysterectomies carry their own additional risks, which have sparked an increase in adverse event reports with the FDA.
Serious complications linked to robot-assisted hysterectomies
In response to a 34 percent increase in adverse event reports (AER) and more than 70 deaths related to da Vinci robot surgery since 2012, the FDA launched a survey to further evaluate the system's risks and potential rewards. "Since it is difficult to know why the reports have increased, FDA has elected to talk with surgeons… Such a survey is "a routine part of [medical device] surveillance," FDA spokesperson Synim Rivers told Medscape Medical News.
Among the reported complications and injuries tied to da Vinci hysterectomies are:
Vaginal cuff dehiscence
Bladder injuries
Cut or punctured ureters
Severe burns to the intestines
Perforated blood vessels
Bowel injuries, such as a torn colon or rectum
Peritonitis
Additional surgeries to correct damage
Death
Research published in the Journal of the American Medical Association (JAMA) that compared robotic hysterectomies with traditional laparoscopic procedures found the former showed no significant advantages, yet cost patients nearly $2,000 more, reports PBS news.
Patients are also cautioned by the American Congress of Obstetricians and Gynecologists that "robotic hysterectomy is best used for unusual and complex clinical conditions in which improved outcomes over standard minimally invasive approaches have been demonstrated."
Earlier research published in August of 2009 by the American Journal of Obstetrical Gynecology determined that "robotic total laparoscopic hysterectomy may be associated with increased risk of vaginal cuff dehiscence and small bowel evisceration. This observation may be because of thermal spread and cuff tissue damage from electrosurgery used for colpotomy."
This rare, but severe complication where the small bowel escapes through the vaginal opening has been observed in at least two cases to date.
Litigation against Intuitive Surgical
Intuitive Surgical continues to defend the safety of its flagship surgical device for various gynecological applications in the operating room despite a growing number of product liability lawsuits filed by injured patients.
One recent lawsuit was brought by a Georgia woman who alleges her robotic hysterectomy left her with vaginal cuff complications that required emergency surgical repair. The 36-year-old plaintiff claims that her pain, suffering and injuries were caused by defects with the da Vinci robot, and along with her spouse, she is suing on counts of product liability, negligence, breach of express and implied warranties, loss of marital consortium, unjust enrichment and lack of informed consent.
Another suit arising from a botched hysterectomy was brought by Gilmore McCalla, who argues that his daughter's death was caused by robotic burns to her artery and intestines during the procedure.
Compensation recovered in a lawsuit against Intuitive Surgical may account for all related medical bills, loss of income, reduced earning capacity, pain, suffering and other non-economic losses.
Media reports indicate that at least 50 da Vinci robot lawsuits are currently pending in court rooms around the nation. Da Vinci robot attorneys continue to review claims made by women who suffered complications or were harmed from a da Vinci-assisted hysterectomy.