Knee Replacements Overview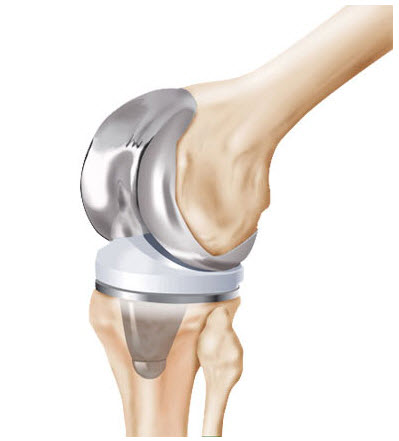 Millions of Americans have undergone knee replacement surgery to replace worn or damaged knee joints in hope of enjoying pain-free, active, unencumbered lives.  By some estimates, as many as 4.4 million in this country were living with replacement knee joints by 2013.
Many candidates for knee replacement surgery are older patients who suffered from osteoarthritis prior to their surgery; however, there are other reasons for the surgery, such as rheumatoid arthritis, developmental abnormality, or obesity.  Repetitive activity can also wear away the knee joint, and an increasing number of younger patients have also received knee implants to repair joints damaged through sports or other activities.
Patients who have received replacement knees often report a new lease on life, and advances in biomedical research and engineering have helped an increasing number of people enjoy normal, active lifestyles.  A well-designed replacement knee, under optimal conditions, can be expected to last up to 20 years and allow for all (or almost all) of the activities that a normal, healthy adult would be able to enjoy.
In some cases, however, new knee replacement devices and techniques have not lived up to their advertised promise.  Defective or poorly designed knees can have serious side effects for a joint implant recipient, including pain, immobility, and even the need for premature revision surgery.  Many examples of knees implants have been subject to recall (either voluntarily by the manufacturer or, in a few cases, at the insistence of the FDA).
Patients who have suffered the consequences of a defective knee replacement often find that litigation is the best way to get compensation to allow them to pay their bills and deal with other financial ramifications of their failed knee implant.
Types of knee replacement surgery
The knee is a complex joint, the largest in the body, and includes the following components:
The knee cap (patella)
The lower end of the thigh bone (femur)
The upper end of the shin bone (tibia)
Cartilage between the components to protect them and facilitate smooth movement of the joint
Disks (menisci) between the tibia and femur that act as "shock absorbers"
Ligaments to hold the tibia and femur together
If all or part of the knee joint is worn or damaged, a doctor may perform knee replacement surgery, in which all or parts of the knee joint are replaced.
Types of knee surgery include:
Total knee replacement (TKR or arthroplasty):  all parts of the knee joint are replaced with synthetic components, including metal implants where the diseased bones are replaced and plastic spacers to prevent wear and to allow for movement.
Partial knee replacement: only parts of the knee joint are replaced.  This surgery is ideal for candidates who have damage or wear on only one part of the knee joint.  Recovery is faster; however, in some cases patients need further surgery or find that pain is not relieved to the extent that it needs to be.  Partial knee replacement surgery includes patellofemoral replacement (of the knee cap and femur compartment at the upper part of the knee joint); unicompartmental knee replacement (of the compartment on either side of the knee); or bicompartmental knee replacement, where two of three of these components are replaced.
Components of knee replacement surgery are manufactured by several companies, including Biomet Orthopedics, DePuy Orthopedics (a subsidiary of Johnson & Johnson), Smith & Nephew Orthopedics, Inc., Stryker Orthopedics, Wright Medical, and Zimmer Orthopedics.
Recent advances in knee surgery
Since the first modern knee replacement surgery was performed in 1968, surgeons and researchers have made many attempts to improve the techniques, materials, and technology that are involved to achieve greater success.
Some recent innovations in knee replacements include:
Minimally invasive surgery:  this allows for smaller incisions and faster healing.  However, it also requires great skill and precision on the part of the surgeon and some have argued that lesser technicians risk poorer outcomes.
Cement-less knees:  in traditional knee surgery, cement is used to bond the knee implants with the existing bones.  In some cases, the cement can break down, causing devise failure.  In cement-less knees, the bone naturally fuses with the implant.  However, some studies suggest that cement-less knees can pose device failure problems of their own.
Mobile-bearing vs. fixed-bearing implants: some companies offer a plastic insert that is able to rotate and offer greater movement for a patient compared to a fixed-bearing implant, in which the plastic spacer is firmly connected to the metal component.
Posterior cruciate ligament-retaining vs. -substituting implants:  in which the patient's ligament is used rather than replaced to create greater stability.
Gender-specific designs: tailored to the female anatomy for greater functionality. There has been some debate as to whether these gender-specific designs are effective.
Complications associated with knee replacement surgery
While knee replacement surgery can offer mobility and freedom for pain in many cases, potential complications can arise, including:
debilitating pain
swelling of joints
damage to surrounding tissues, ligaments, or arteries
nerve damage
bone loss, irregular growth, or fracture
unstable joints (dislocation or loosening)
limited range of motion
problems standing or walking
blood clots, deep vein thrombosis, pulmonary embolism
infection
allergic reaction
In some cases, serious complications can require knee revision surgery, which can be expensive, painful, and inconvenient.  Patients who are older, are obese, or who have diabetes, have a higher risk of developing some of these complications.
Recalled or defective knees: FDA action and warnings
Although all joint replacement surgeries come with some risks, certain brands of knee implants have caused disproportionately high numbers of complications or device failures.  Many problems with knee replacement implants and other devices arise in part because of the FDA's 501 (k) clearance process in which additional safety trials are not required for a model of a knee that is deemed "substantially similar" to a model that has already been approved.  Unfortunately, this process often results in dangerous devices that are not adequately tested entering the market; thousands who receive them serve as unofficial test subjects.
Between 2003 and 2013, there have been a total of 709 recalls associated with replacement knee implants or associated components.  These recalls have involved 6 manufacturers; most have been class II recalls (with class I being the most and class III being the least serious).  Class II recalls, in the description of the FDA, involve "a situation in which use of or exposure to a violative product may cause temporary or medically reversible adverse health consequences or where the probability of serious adverse health consequences is remote."
Recalled knee implants and components reported to the FDA up to May of 2013:
Biomet:  75 recalls (all class II).  Recalled models include the Vanguard PS Open Box Femoral Component (2007, mislabeling); the Vanguard DCM PS Plus Tibial Bearing (2008, incorrect sizing).  Also at issue in these and/or other recalls:  improper assembly; missing features.
DePuy (a subsidiary of Johnson & Johnson): 477 recalls (4 class I; 470 class II; 3 class II).  Recalled models include the LCS Knee Implant-Meniscal bearing insert (2008, mislabeling); the LCS Duofix Femoral Component (an international recall, outside the U.S., for higher-than-normal revision rates, 2009); LPS Diaphyseal Sleeve (2013, potential fracture of sleeve which could lead to "loss of function or loss of limb, infection, compromised soft tissue or death," according to the FDA).  The LPS Diaphyseal Sleeve recall was a class I recall, the most serious kind.  Also at issue in these and/or other recalls:  possible fracturing; sizing issues; mislabeled components; metal debris; assembly difficulties; incomplete seal.
Smith & Nephew: 11 recalls (all class II).  Recalled models include:  Oxinium Genesis II and Oxinium Profix II knees (2003; pain, loosening of the devices, and resulting necessity for revision surgery, 2003); TC-PLUS, VKS, and RT-PLUS knees (levels of iron higher than what was listed on their labels, 2008); Uni Tibial Baseplate (components prone to breakage).
Stryker: 118 recalls (1 class I; 95 class II; 22 class III).  Recalled models include:  EIUS Unicompartmental Knee Systems (2012, higher-than-normal revision rates).  Also at issue in these and/or other recalls:  damaged component; disassociation; mislabeled components; component size; early wear and delamination.  (Problems with early wear and delamination may lead to the need for revision surgery.)
Wright: 4 recalls (class II): improper length; co-mingled parts
Zimmer: 224 Zimmer knee recalls (223 class II; 1 class III).  Recalled models include: Zimmer NexGen Complete Knee Solution LPS Femoral Component and the Zimmer NexGen Complete Knee Solution LPS Flex Gender Femoral Component (manufacturing defect, FDA-issued recall, 2010); NexGen Complete Knee Solutions Minimally Invasive Surgery (MIS) Tibial Components, Locking Screw, and Stem Extensions (2010, component loosening requiring revision surgery, FDA-issued recall after a warning letter was sent 6 months earlier).  Also at issue in these and/or other recalls:  faulty design; mislabeled components; missing components; manufacturing issues; difficulty with "insert" (difficult to insert the implant, leading to damage of device); implant loosening; sterility issues
Medical studies concerning knee replacement
Medical studies have also raised doubts about the safety of some artificial knees.  For instance, serious questions were raised about Zimmer's NexGen Flex models by Richard Berger (a consultant for Zimmer) and his colleague Craig Della Valle, who informed the company in 2006 that there were problems with the cement-less NexGen CR Flex Porous Femoral Component, namely the loosening of the device.
Berger and Della Valle presented their findings at the meeting of the American Association of Orthopaedic Surgeons in 2008.  They had found that 9 out of 108 patients experienced femoral loosening and pain necessitating revision surgery and loosening occurred in a total of 39 patients.  Another study found that over a period of 18 months, 38% of patients with the NexGen LPS Flex Total Knee system showed loosening, while 21% required revision surgery in less than two years.
Pending knee implant litigation
As patients suffer the consequences of knee implants that are, in some cases, inadequately tested and poorly designed, many have determined to take legal action.  Over 1,000 patients have sued Zimmer Orthopedics in particular and their complaints have been consolidated as part of a multidistrict litigation (MDL no. 2722) in the U.S. District Court for the North District of Illinois.
The first knee replacement lawsuits to go before a jury are slated to take place in 2015; although they will share a streamlined discovery process, each complaint will be heard individually and receive its own outcome.