Knee Revision Surgery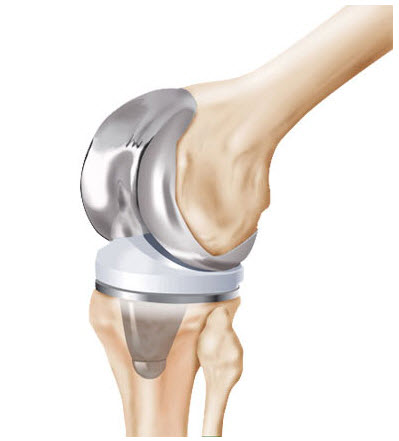 Prosthetic knee revision surgery is a procedure in which a previously implanted artificial knee is replaced with a new knee implant. Such a procedure has a higher rate of complications compared to the original knee replacement surgery and doctors perform revision surgery only when necessary.
There are many reasons why a revision surgery would be performed, including managing pain, improving mobility, and preventing damage. In some cases, the original knee implant wears out after 15 or 20 years and simply needs to be replaced. This is especially true for younger, more active patients, who increasingly have revision surgery done because they want to continue the active lifestyle that they hoped the original knee implant would prolong.
However, some revision surgeries take place only a few years after the original knee replacement surgery was first performed, often due to complications associated with the original surgery or problems with the device itself. Because of the pain and expense involved, knee revision surgery is a factor that weighs heavily in lawsuits that claim premature device failure, especially when damages and compensation are considered.
How is knee revision surgery performed?
In the original total knee replacement ("TKR" or arthroplasty) surgery, a surgeon inserts a knee implant or device that replaces the entire joint. TKR is sometimes referred to as the "primary" or "initial" knee replacement surgery to distinguish it from a revision surgery. The surgeon removes the lower end of the femur (thigh bone), the patella (kneecap), and the upper end of the tibia (shin bone), replacing them with synthetic components. Also included are plastic spacers to cushion the components, facilitate movement, and prevent wear.
Revision surgery is more complicated. The surgeon first removes the femoral component of the initial device, shaves off any damaged bone, and adds the new femoral component. The old tibial component is likewise removed and replaced. The back of the patella is reinforced, if necessary. Bone grafts are sometimes necessary to build up or reinforce damaged bone, and other special devices may be needed to support or position the new implant.
If revision surgery is performed due to infection, it must be done in two phases. First the old device is removed and a spacer treated with antibiotics is inserted. Six weeks later, a knee implant is inserted. The whole process can take two to three hours and always takes longer than the original surgery. A period of rehabilitation and physical therapy follows, as after the initial TKR surgery.
How often are TKR revision surgeries performed?
Statistics regarding total knee replacement revision surgeries are difficult to come by. By some estimates, 22,000 TKR revision surgeries are performed each year, though other figures are much higher (over 60,000 per year).
By 2003, 94% of knee replacements were still in order after 20 years. This appears to be changing, however, as an increasing number of patients under 55 years of age undergo initial knee replacement surgery. Younger patients may require revision surgery sooner because their more active lifestyle tends to put greater strain on the initial implant. Of the patients who undergo revision surgery, an estimated half of them do so within two years, pointing to problems beyond gradual wear.
Why is knee revision surgery performed?
Knee revision surgery is generally performed when problems associated with the original knee implant result in excessive pain or mobility problems that can only be treated with surgery.
Instability in a knee implant can be the result of one (or more) of these five problems:
Wear and/or loosening occurs when implants start to pull away from the bone and, as a result of this loosening, friction between the loosened parts can create tiny particles increase wear. In some cases, the body's attempt to "digest" these particles also involves absorption of the bone itself, weakening the bone so as to increase the risk of fracture. This process is called osteolysis.
Infection can be extremely problematic in knee implants because it is generally inaccessible to antibiotics and must be treated through a surgical procedure (sometimes a revision surgery).
Fractures can require revision surgery in some cases.
Instability can be a result of soft tissues unable to support the implant, of poor positioning or alignment of the implant, or of a defect in the implant.
Other factors include the activity level of patients (younger patients are more likely to require revision), obesity, or previous problems with knees.
What are the complications of knee revision surgery?
Potential complications associated with knee revision surgery are similar to those associated with the initial TKR surgery.
Complications linked with knee replacement revision surgery include:
Infection
Bleeding
Pain
Swelling
Nerve, tissue, or blood vessel damage
Deep vein thrombosis
Blood clots
Pulmonary embolism
Loss of bone tissue
Fractures during operation (usually caused by the pressure needed to remove the old implant)
Growth of heterotopic bone (bone that develops at the end of the femur)
Difference in leg length
Loosening of the new implant
The potential for these complications is higher for revision surgery than for the initial surgery. For instance, patients are twice as likely to experience loosening of the replacement implant as an initial implant.
The risk of infection is also greater and can require additional surgeries, sometimes of a more painful or complicated nature. In extreme cases, the joint must be fused together with metal rods and nails, or even amputated, if the infection cannot be cleared up any other way.
Lawsuits involving knee revision surgery
A knee implant should generally last about 15 or 20 years. However, in some cases, revision surgery is required after only a few years. While several factors may lead to premature revision surgery, in some cases, the implant itself is defective and results in loosening or dislocation of the knee joint.
Recalled knee implants include devices from the following manufacturers with higher than usual failure rates and problems requiring revision surgery:
Biomet (Vanguard DCM PS Plus Tibial Bearing)
DePuy (LPS Diaphyseal Sleeve)
Smith & Nephew (Oxinium Genesis II and Profix II; Journey Uni Tibial Baseplate)
Stryker (Duracon Total Knee System; EIUS Unicompartmental Knee System; Triathlon TS Knee System).
Zimmer (NexGen LPS Flex, CR-Flex, Gender Solutions LPS Flex, MIS Procedure)
Plaintiffs have mounted over 1000 knee revision lawsuits against Zimmer Orthopedics alone.
When plaintiffs file knee replacement lawsuits against the manufacturers of flawed or recalled knee implants, they are typically seeking to recoup losses that they sustained in the form of medical bills, as well as lost income and earning potential, and other damages.
Knee revision surgeries can be well over $70,000, and some unfortunate patients have to undergo multiple revision surgeries in order to cope with the damage done to their body through a faulty implant. The major expense of revision surgery (or surgeries) is a significant factor that the jury considers when calculating the monetary award they determine in a plaintiff's favor.